PROCESS
Our Process
Minnesota Robotics offers innovative design and fabrication services for the medical device industry. We are committed to understanding the project, beginning with a complete consultation, examining the need and overlaying customer specifications with upstream and downstream processes as primary considerations. Within the framework of the specifications provided, we conceptualize a plan to provide an individualized solution. Through careful and intentional design scrutiny, we finalize the design and obtain customer approval before we begin fabrication. The final result is a complete turnkey solution. Keeping designs clean, simple, and elegant is the heart of our business model and philosophy. We provide successful solutions for each of our clients.
We pride ourselves on service, offering direct access to our design and fabrication team. Our approach to service includes providing a dedicated specialist on each project who manages that project from consultation to completion.
Complete Consultation to Completion Service.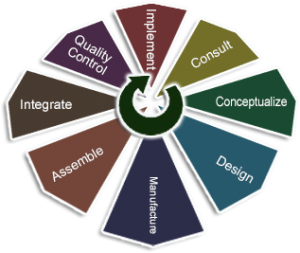 Complete consultation
Conceptualization
Responsive design
Precision manufacturing
Assembly
Integration
Quality assurance
On-time delivery
Implementation